Looking for a unique gift idea for someone in your family? Get them a subscription box! They are full of random surprises that your relative will be ecstatic about. One of the most popular sites to find subscription boxes of all types is Cratejoy. They offer everything from self-care to books to tasty snacks. Below, we've listed the best Cratejoy subscription boxes based on interest.
For Someone Who Needs A Little Pampering:
– Goddess Provisions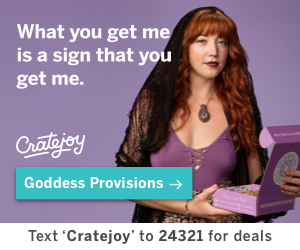 This box will bring out the inner goddess in anyone. This spiritual box includes 5-7 full size items that could include vegan beauty products, aromatherapy, crystals, and more. You get $80 – $100 worth of items for just $33 per month! Plus, the included products are 100% vegan and cruelty-free!  
– TheraBox
Help reduce someone's stress with this therapist curated subscription box. Every month, it's filled with 6-8 relaxing body, bath, skincare, aromatherapy, and other wellness products. They also include a happiness activity to help the recipient feel more joy.
View the full list of self-care subscription boxes offered.
For The Bookworm:
– Coffee and a Classic
This is one of the coolest boxes I've ever seen! Who doesn't like to sip a hot drink while reading a classic? They have two subscription options to choose from:
Starter Classic Subscription: A classic book, a drink, two bookish items, and a bookmark.

Standard Classic Subscription: A classic book, a drink, a snack, two bookish items, a mug, and a bookmark packaged in a high-quality photo box.
With these subscriptions, you get the option of receiving a classic literature, nonfiction, or children's book, and tea, hot chocolate, or coffee. How cool!
– Unplugged
The whole point of reading is to unplug from the world and dive into another with a good book. With this book subscription box, you get: tools for reflections, one new Young Adult or Adult Fiction book, activities to help you unplug, and 4-6 bookish self-care or novelty products. Featured on Buzzfeed!
See all of the book-related boxes on Cratejoy HERE.
For The Kids:
– We Craft Box
Nothing like good old craft to give to a child. Who needs toys anyway. Every box has a themed craft that kids and their parents can enjoy doing together. Past boxes have included Llama Love Pops, Rainbow Daisies, and Camping Bears. All materials are included in the box and can be shared among 2 kids.
– Kyoki's Slime
Practically every kid loves slime! Each month is a different theme with a slime care sheet and a packet of borax (needed for the slime). They also throw in extras like candy and charms children will like as well. This kid subscription box is on the cheaper side, only being $29 for a 3-month subscription.
Check out all of the kid subscription boxes Cratejoy has available.
For The Pop Culture Nerd:
– Unicorn Dream Box
Unicorns are everywhere in pop culture today. If your family member loves unicorns, this is the subscription box for them! This box can include unicorn stationery, accessories, decor, or makeup.
You can choose from two subscription options:
Unicorn Dream Mail: $22, 3-4  Items

Unicorn Dream Box: $34, 6-9 Items
– GeekGear
Every Potterhead should get this magical subscription box at least once. All of the 6 – 9 items included (collectibles, wall art, candy, etc.) are exclusive Wizarding World products you can't get anywhere else. Plus each month, they include a specially designed t-shirt! Click here and use promo code PREZDAY25 for discount! 
– Comic Mystery Box
Is your family into reading comics? For just $24.95 per month, you can surprise them with 15 new and/or vintage comics. It could be Supergirl, Star Wars, Venom, Green Arrow, the list goes on. If you tell them a specific character to include, they will do their best to do so.
See if these other geeky subscription boxes will be great for your family member.  
For The Fitness Enthusiast:
– Her Fit Club
Help someone you know be a lean fighting machine with this subscription box. They have five different boxes to choose from:
Mini Fashion FitMailer: Choose from 1 – Sports bra, a pair of leggings or capris, or full length top; Include 1 lifestyle gift.  

Fitbox Fashion Subscription: 1 Athleisure Outfit

Fitbox Beauty Subscription: Could include bath bombs, face masks, body lotion, etc.

Fitbox Move Subscription: Athleisure apparel and fitness equipment.

Fitbox Premier Subscription: Sneakers, athleisure, beauty, and fitness equipment items.
– WODBOM
This subscription caught my eye because it includes items to help you recover after a workout. There monthly box includes training tools (massage, lifting, mobility), recovery aids (supplements, muscle rubs), healthy energy boosts and snacks, and apparel from well-known retailers. Upon purchase, you mention your gender and what size you are as well. Click here to purchase this box! 
The fitness subscription box options on Cratejoy are amazing!
For The Artist:
– The Adults & Crafts Crate
This subscription is the Blue Apron of crafting! Every month, subscribers receive a unique crafting project to complete. It could be wood burning, a wine cheese chalkboard, or a wine caddy! All of the tools, materials, accessories, and easy instructions are included.
– The Inky Box
This box is perfect for anyone looking to express their creativity and learn calligraphy. The two options they have are:
The Inky Box Mini: 3-5 lettering tools, exclusive downloadable practice calligraphy sheets.

The Inky Box: Supplies, lettering tools, and exclusive hand-lettered greeting cards.
For more art-themed subscription boxes, CLICK HERE.
For The Pet Lover:
– PETure Perfect
Get a PAWtrait of your family member's cat or dog with this box! You just provide a photo of the cat or dog, and they'll create a personalized illustration of them. The photo may be included on a mug, canvas notebook, bamboo coaster, or other items.
– Surprise My Pet
Want to get a gift for your furbaby? Surprise your pet with dog and cat subscription box. Each month, you'll receive 5-7 items such as toys, all natural treats, bowties, scarves, and more. This box reminds me of Bark Box.
Check out other pet boxes for cats, dogs, horses, and more!
For The Designer:
– Sundae Home
Designers today are all about contemporary, modern designs. This subscription box sends 4-6 themed premium contemporary accessories and home decor. This box is a steal with getting $100 worth of products for roughly half of that!
– Succulents Box
What person wouldn't like having a succulent plant in their home or office? You can choose to get 1-4 succulents or 1 succulent airplant per month. Did I mention that it starts at only costing $18.50 for a 3-month subscription?  
Interested in checking out other design and decor boxes? Click here.
For The Foodie:
– Explore Local Box
This box is unique because every month, the food they send out is from one specific city. So, someone you know can taste the world without leaving the comfort of their home. They could include items such as coffee, nuts, dip mixes, local spices, the list goes on.
– SnackSack
This snack subscription sticks out among the rest because if provides plans for those who want vegan, gluten-free, and regular snacks. Each box includes 12 seasonal snacks that are healthy and tasty! The snacks range from chips to gummies to jerky. Click here to purchase and use promo code PREZDAY25 for a discount!
See the many delicious food subscription boxes on CrateJoy!
For The Beauty Guru:
– Beauteque Monthly
This beauty box provides everything any beauty guru would want to have to take care of their skin. They offer two options:
Mask Maven: 9 sheet mask and/or sleeping packs.

Beauty Box: 6 full-size cosmetic products like lotions, makeup, body and hair care, beauty tools, and more.
– Color Curate
Today, most beauty gurus are into having products that are all-natural. This box does just that. Every month, they send a box that contains 4 beauty products, like a full makeup palette, that are vegan, and cruelty, gluten, and paraben free. What's cool is that each is centered around a certain color palette, which is exemplified in the makeup bag they include.
Besides these, there are other beauty boxes for lipstick, hair care, and more.
For The Chef:
– Mix Box By Homemade Bakers
Does someone in your family love to bake? This box provides all of the items and instructions to complete a specific sweet item. Some of the past recipes have included Pecan Streusel Pumpkin Pie, Red Velvet Whoopie Pies, and Mint Chocolate Cookies.  
– Spice Madam
Inspire your loved one to spice up their cooking with this box. Each one is based on a specific country and includes 10-15 seeds, spices, recipe cards, culinary mixes, and even a themed music playlist! The items are vegetarian-friendly and gluten-free. With each box order, 5% of proceeds will go towards supporting a children's charity.
Are they not into baking and spices? View more cooking subscription boxes.
Hopefully, you will find these and other boxes on Cratejoy will be the perfect gift for your family members. To view all of the great deals on Cratejoy, click here.